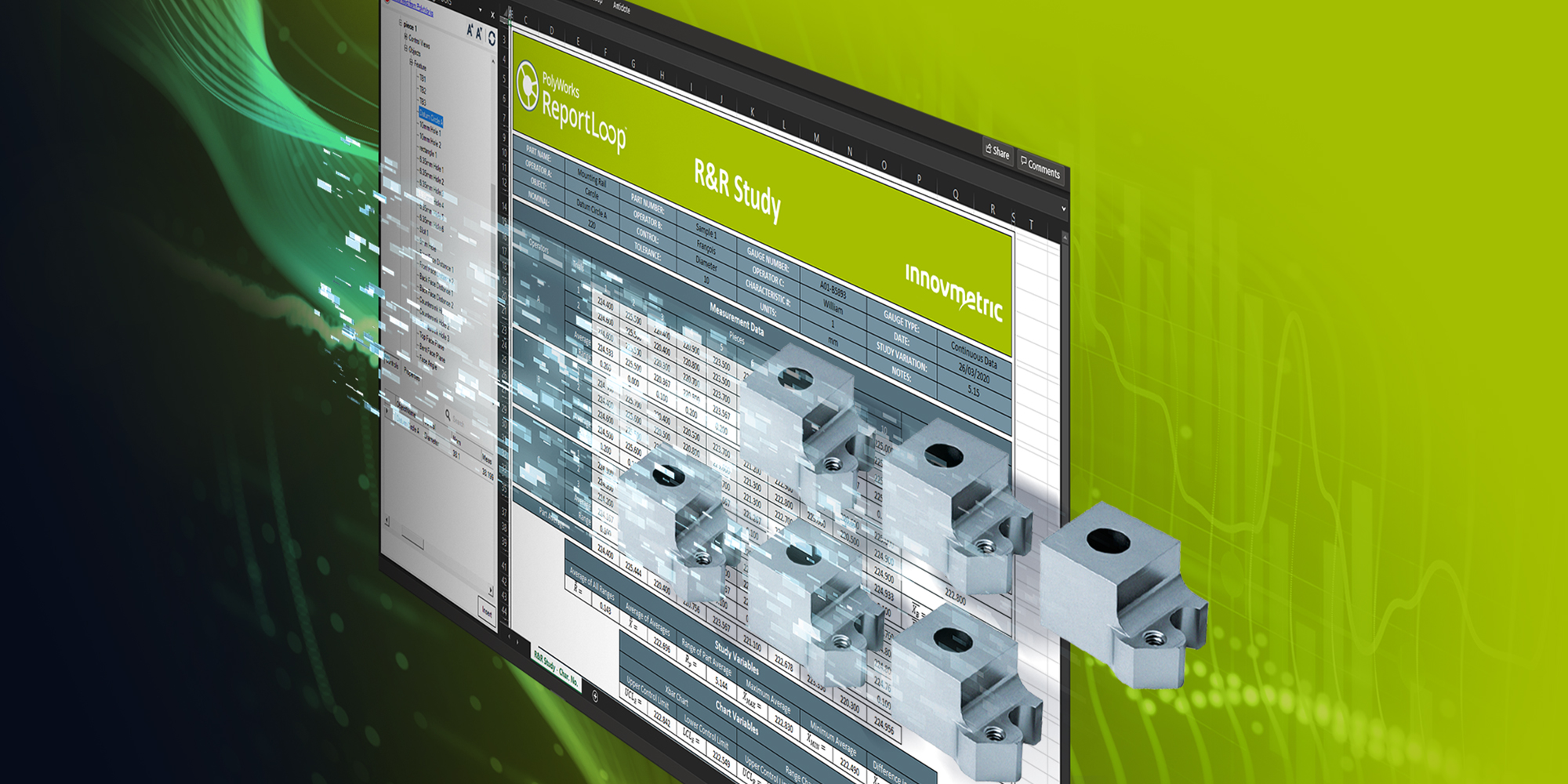 InnovMetric Releases PolyWorks® Collaborative Suite 2019
Offers the Ultimate Digital Connectivity Solution for Excel Reports
4/24/19
InnovMetric Software Inc. today announced the launch of the 2019 release of the PolyWorks Collaborative Suite. With this release, InnovMetric is excited to unveil the new PolyWorks|ReportLoop™ for Excel solution, a product that digitally interconnects the PolyWorks Metrology Suite to Microsoft Excel to inject smart 3D inspection data within customers' corporate inspection reports.
PolyWorks|ReportLoop™ is a brand-new addition to the Collaborative Suite, which initially consisted of two digital collaboration products: The PolyWorks|DataLoop™ digital connectivity solution and the PolyWorks|PMI+Loop™ measurement planning solution. The PolyWorks Collaborative Suite promises to significantly increase product-development efficiency by digitally interconnecting quality-control and product-engineering teams and providing them with real-time access to all 3D measurement data. 
"PolyWorks|ReportLoop is the ultimate digital connectivity solution that will completely transform the way 3D inspection results are injected into corporate Excel reports," said Marc Soucy, President of InnovMetric Software. "As we expect PolyWorks|ReportLoop to benefit our entire user community," he proudly continued, "we've decided to provide it at no cost to all new customers and existing customers entitled to upgrade to PolyWorks 2019." 
PolyWorks|ReportLoop: Injecting smart 3D inspection data into Excel reports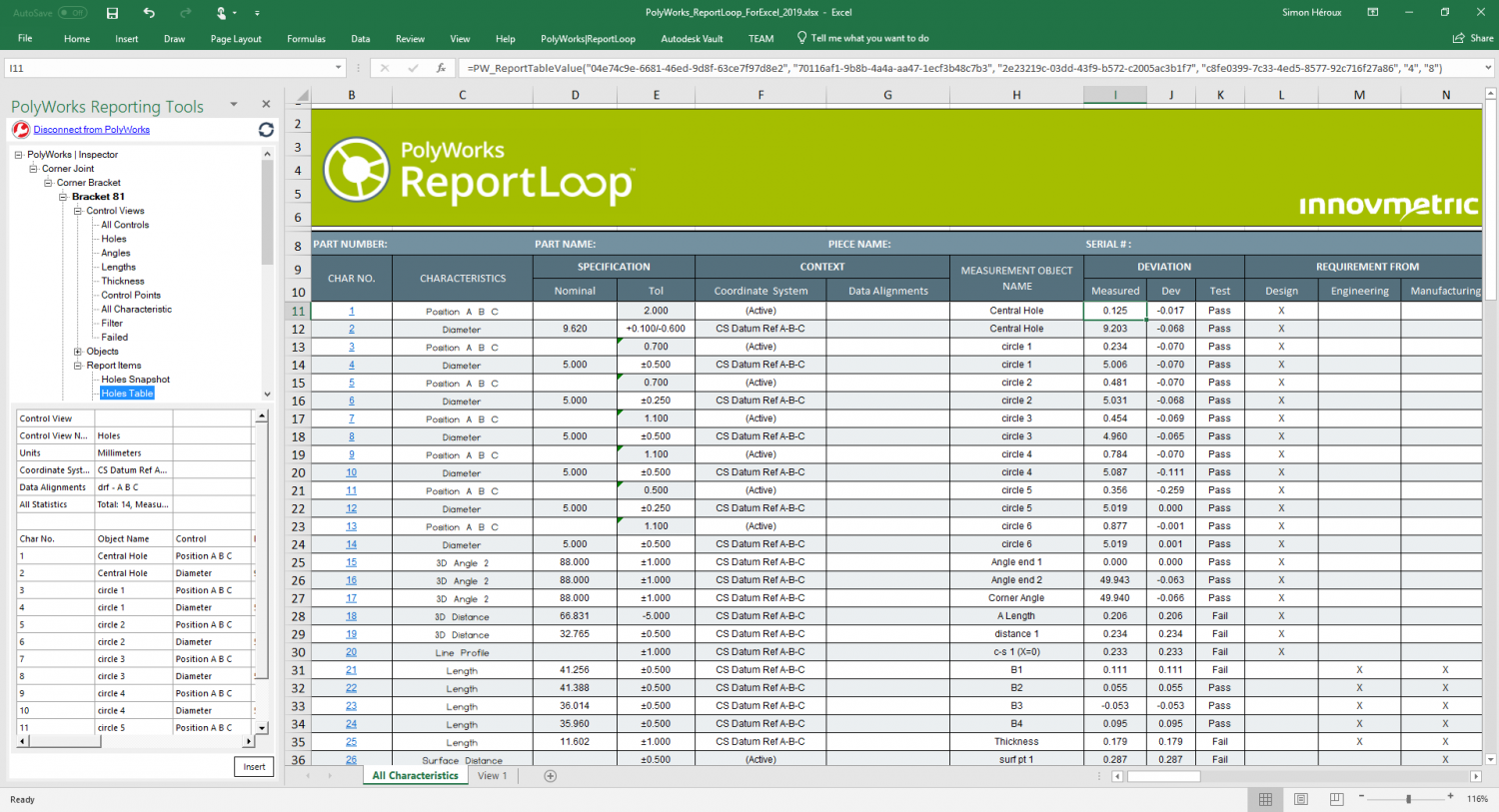 In the past, inserting 3D inspection data within a preformatted corporate spreadsheet required the programming of macros in PolyWorks and Excel. In order to improve the data transfer, InnovMetric explored a new approach, based on parsing the contents of a PolyWorks inspection project within Excel and writing formulas that query PolyWorks data in spreadsheet cells, instead of writing fixed values. 
These innovations were so major and would so greatly enhance the user experience that InnovMetric decided to create an entirely new product, the PolyWorks|ReportLoop for Excel solution. It allows integrating smart 3D inspection data within preformatted Excel reports by directly linking spreadsheet cells to PolyWorks controls, control views, tables, snapshots, and project and piece properties, without having to create macros. And as formulas are written in each cell, the Excel report has built-in intelligence that allows it to automatically update cells when the inspection project has been modified. 
With PolyWorks|ReportLoop, the corporate spreadsheet of customers has suddenly become a much more powerful and complete reporting tool.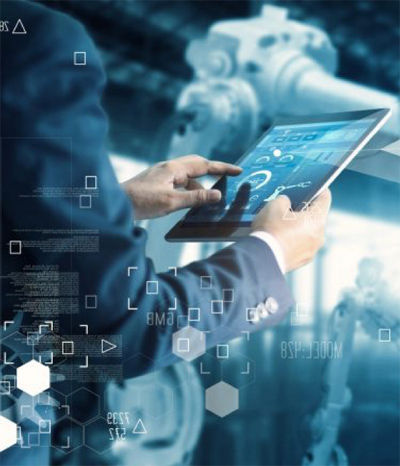 PolyWorks|DataLoop: Digitally interconnecting the teams involved in 3D measurement processes 
PolyWorks|DataLoop is a digital connectivity solution that leverages an existing Product Lifecycle Management (PLM) system to digitally interconnect all those who capture, or need access to, 3D measurement information, dramatically improving teamwork efficiency. PolyWorks|DataLoop is user-friendly, lightweight, and fast: 
Through its integration with a PLM system's file vault and relational database, it manages all PolyWorks Metrology Suite inspection projects, reverse-engineering projects, and point cloud datasets, allowing users to search within the database without having to use a file browser; 
It includes a web server that allows users to monitor the measurement activity, analyze the trend charts of any dimension, and open any inspection project within a standard web browser, on a desktop computer or a mobile device; and 
It uses intelligent caching strategies and minimal data transfer techniques that ensure optimal download and upload times. 
PolyWorks|DataLoop 2019 brings with it these key improvements: 
While offering a connector for the Aras Innovator PLM system, development is under way to connect to the following PLMs: Teamcenter from Siemens, PTC Windchill, and CIMdb from Contact Software; 
Has significantly enhanced search capabilities in the PolyWorks Metrology Suite products; and 
Features improved web interface usability and performance, as well as simplified dashboard customization. 
PolyWorks|PMI+Loop: Collaborative cross-platform measurement planning workflow for smart 3D metrology 
PolyWorks|PMI+Loop is a solution that transforms the measurement planning process into a digital collaborative workflow between the design team, the manufacturing team, and the measurement team. 
Through an add-in that brings PolyWorks functionality into a customer's CAD platform, customers can define PolyWorks measurement objects associative with the CAD geometry, dimensional controls, and control views within their CAD environment. As PMI+Loop uses the same software code base and user interface concepts as the measurement team, all the teams involved in the measurement planning process can seamlessly exchange CAD model and measurement strategy updates between the CAD and PolyWorks platforms, greatly improving the measurement planning process efficiency. 
PolyWorks|PMI+Loop 2019 offers three major enhancements: 
CATIA v5 is supported, in addition to Siemens NX; 
Modifications to GD&T controls performed within PolyWorks|Inspector™ can be reimported into CAD; and 
The PolyWorks Control Reviewer interface is available within the CAD platform. 
For more information about PolyWorks, including demonstrations and upcoming PolyWorks Conference 2019 events, visit: innovmetric.com. 
About InnovMetric 
Founded in 1994 and headquartered in Quebec, QC, Canada, with subsidiaries worldwide, InnovMetric Software Inc. is the leading provider of universal 3D metrology software solutions. The world's largest industrial manufacturing organizations (Toyota, GM, Volkswagen, Honda, BMW, Daimler, Ford, Rolls-Royce, Pratt & Whitney, Boeing, Embraer, Bombardier, Apple, and many more) trust InnovMetric's PolyWorks® software solutions and associated technical services to maximize the benefits of 3D measurement technologies for their engineering and manufacturing applications. 
With its subsidiaries and joint ventures, InnovMetric has nearly 400 employees in 16 countries: Canada, United States, Mexico, Brazil, France, Italy, Spain, Czech Republic, Netherlands, Sweden, Turkey, South Africa, India, Thailand, China, and Japan.