InnovMetric releases PolyWorks® 2018 featuring universal inspection projects
InnovMetric Software Inc., the leading provider of universal 3D metrology software solutions, today launched the 2018 release of PolyWorks at the annual PolyWorks Conference USA event. This latest major release of the company's universal 3D metrology software platform delivers universal inspection projects playable on any 3D measurement device, an enhanced alignment toolbox, smart collision avoidance for CNC CMMs, even more robust measurement sequences for CNC CMMs, and enhanced usability and performance that promote valuable gains in user productivity.
 "In recent years, we've worked hard to boost teamwork efficiency and reduce our customers' measurement cost by delivering a universal 3D metrology software platform that interfaces with all 3D measurement devices, offers a universal workflow for performing all inspection tasks, and deploys universal inspection projects playable on any 3D measurement device. PolyWorks 2018 ties in perfectly with this strategy as it keeps improving the universality, flexibility, and usability of the PolyWorks tools," said Marc Soucy, President of InnovMetric.

Inspection projects DIRECTLY PLAYABLE with ALL 3D measurement devices
Since 2016, PolyWorks universal inspection projects are reusable with any 3D measurement device by adapting their object measurement methods and measurement sequences using automatic conversion tools. PolyWorks 2018 empowers users to create and deliver shop-floor-ready inspection projects that are directly playable with any 3D measurement devices.
With PolyWorks 2018, users can maximize the use of their 3D metrology hardware and minimize the risk of operator errors by creating and embedding multiple piece measurement templates within a single inspection project!
With piece measurement templates, users can preconfigure an inspection project to:
Perform multiple piece measurements with CNC CMMs and portable scanning arms
Execute measurement sequences on bridge CMMs and horizontal arms
Set up for different laser tracker brands and models
Handle multiple CAD model versions and revisions
Manage multiple versions of an inspection routine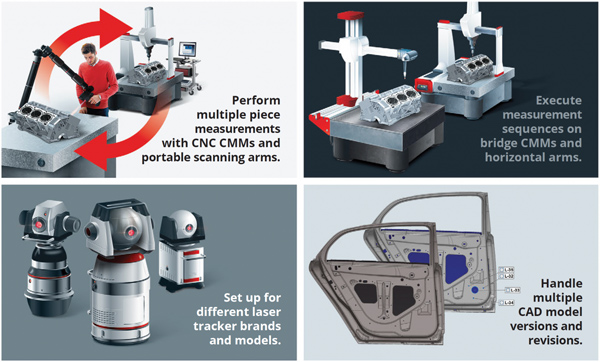 Universal inspection projects offer users total flexibility for the overall work organization of their 3D metrology processes.

Smart collision avoidance for CNC CMMs 
PolyWorks 2018 adds new measurement sequence fixers to the powerful real-time collision analysis technology. These tools allow inserting automatically computed Go to Position locations that modify the CMM measurement path in an optimal way as to prevent detected potential collisions.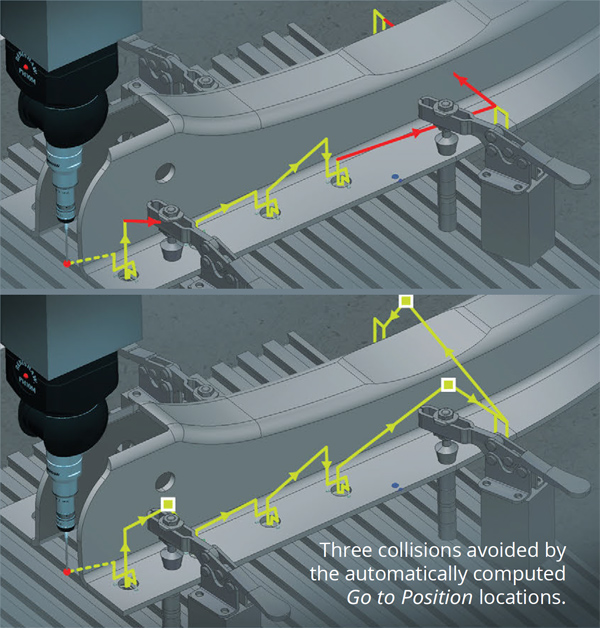 Enhanced alignment toolbox
PolyWorks 2018 reference target and datum target alignment techniques are more powerful and more complete. Users can:
Balance part deviations using the integrated iterative alignment with reference targets bound to constructed features, which is useful when aligning symmetrical parts and balancing blade edges.
Simulate rectangular and circular fixture locating pads using the new datum target area.

Robust measurement sequences for CNC CMMs
PolyWorks 2018 offers intelligent solutions for measuring deformed, incorrectly aligned, or deviated parts without operator intervention:
Search hole – Triggers a spiral search when a hole is not located at its nominal position to estimate the actual hole location, and restarts hole measurement from the estimated location.
Locate hole center – Measures 3 points to estimate the actual hole location, translates the measurement zone to the center of the actual hole, and launches hole measurement.
Measure relative to other objects – Adjusts the position of the measurement zone based on the deviations of objects that are already measured.

Enhanced usability and performance
The improved discoverability, ease of use, and performance of tools in PolyWorks 2018 promote valuable gains in user productivity:
Simplified icons assure quick recognition, while retaining the original icon concepts
Colors are used to focus attention and better communicate results
Intuitive annotation positioning and editing tools directly in the 3D Scene
Single-click geometry transfer between PolyWorks|Inspector™ and PolyWorks|Modeler™
For more information about PolyWorks, including demonstrations and upcoming PolyWorks Conference 2018 events, visit: www.innovmetric.com.