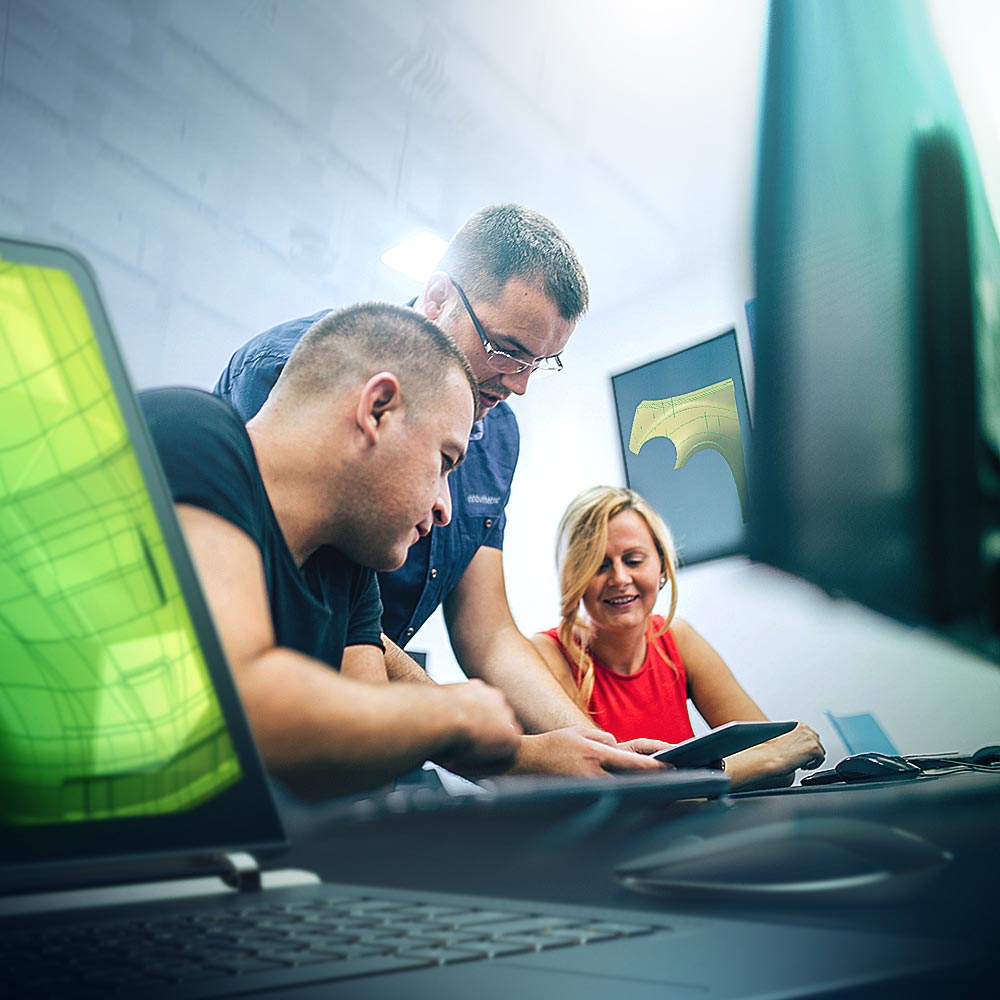 3 days
Classroom
or
Private
Objective:
The objective of this 3-day training is to enable metrology operators, technicians, engineers, and designers, who have little or no knowledge of the PolyWorks® Metrology Suite, to reverse engineer parts using tools found in PolyWorks|Modeler™. More specifically, it covers the key concepts of basic polygonal model editing, parametric sketching, and NURBS surfacing.
Prerequisites:
Trainees must have basic knowledge of metrology.
Trainees must have basic computer skills (Windows operating systems).
Outline:
Manage files and navigate through the PolyWorks® interface
Obtain part data and position the polygonal model
Edit the polygonal model
Model prismatic shapes using sketching tools
Model freeform shapes using NURBS surfacing tools
Manage files and navigate through the PolyWorks® interface
Navigate through the PolyWorks Workspace manager interface
Create and save a workspace
Navigate through the PolyWorks|Inspector and PolyWorks|Modeler interfaces
Create and save PolyWorks|Inspector and PolyWorks|Modeler projects
Define the steps of a typical reverse-engineering workflow
Obtain part data and position the polygonal model
Connect to a device
Scan a polygonal model using quality metrics
Acquire data in different device positions
Create a unified polygonal model
Extract key features on the polygonal model
Position the polygonal model with respect to the coordinate system standard axes
Edit the polygonal model
Transfer objects between modules
Smooth polygonal model vertices
Reconstruct areas of the polygonal model
Fill holes
• Automatically and interactively
Optimize the curvature
Reduce or subdivide triangles
Create, edit, and insert curves into the polygonal model
• Standard
• Boundary
• Fillet Tangent & Edge
Model prismatic shapes using sketching tools
Create a sketch from the outline of a polygonal model
Create and edit sketch entities
• Add dimensions
• Add relations
Export sketches for parametric and associative downstream modeling
Review, report, and share inspection results
Create a network of curves that define NURBS patches
Fit NURBS patches to the underlying polygonal model
• Review fitting errors
• Adjust fitting parameters
Create a NURBS model from the fitted NURBS patches
Export the fitted NURBS patches or the NURBS model for downstream modeling
2014 Cyrille-Duquet
Suite 310
Québec QC G1N 4N6
Canada
United States
PolyWorks USA Training Center - Novi
41700 Gardenbrook Road Suite 102
Novi, MI 48375
United States
United States
PolyWorks USA Training Center - Irving
1400, Corporate Drive Suite 170
Irving, TX 75038
United States
United States
PolyWorks USA Training Center - Everett
906 SE Everett Mall Way Suite 120
Everett, WA 98208
United States