A Flare for Design and a Passion for Perfection

Bushwacker Inc. turns to PolyWorks|Modeler's reverse-engineering capabilities to move from concept to prototype in just a few days.
For nearly 40 years, Bushwacker Inc., a family-operated business in Portland, Oregon, has manufactured fender flares and truck accessories for the automotive after-market with passion and pride. Recognized as a leading manufacturer, Bushwacker creates innovative designs and produces high-quality products. As Sterling Logan, Design Engineer at Bushwacker, stated, "To do this, we need leading-edge tools."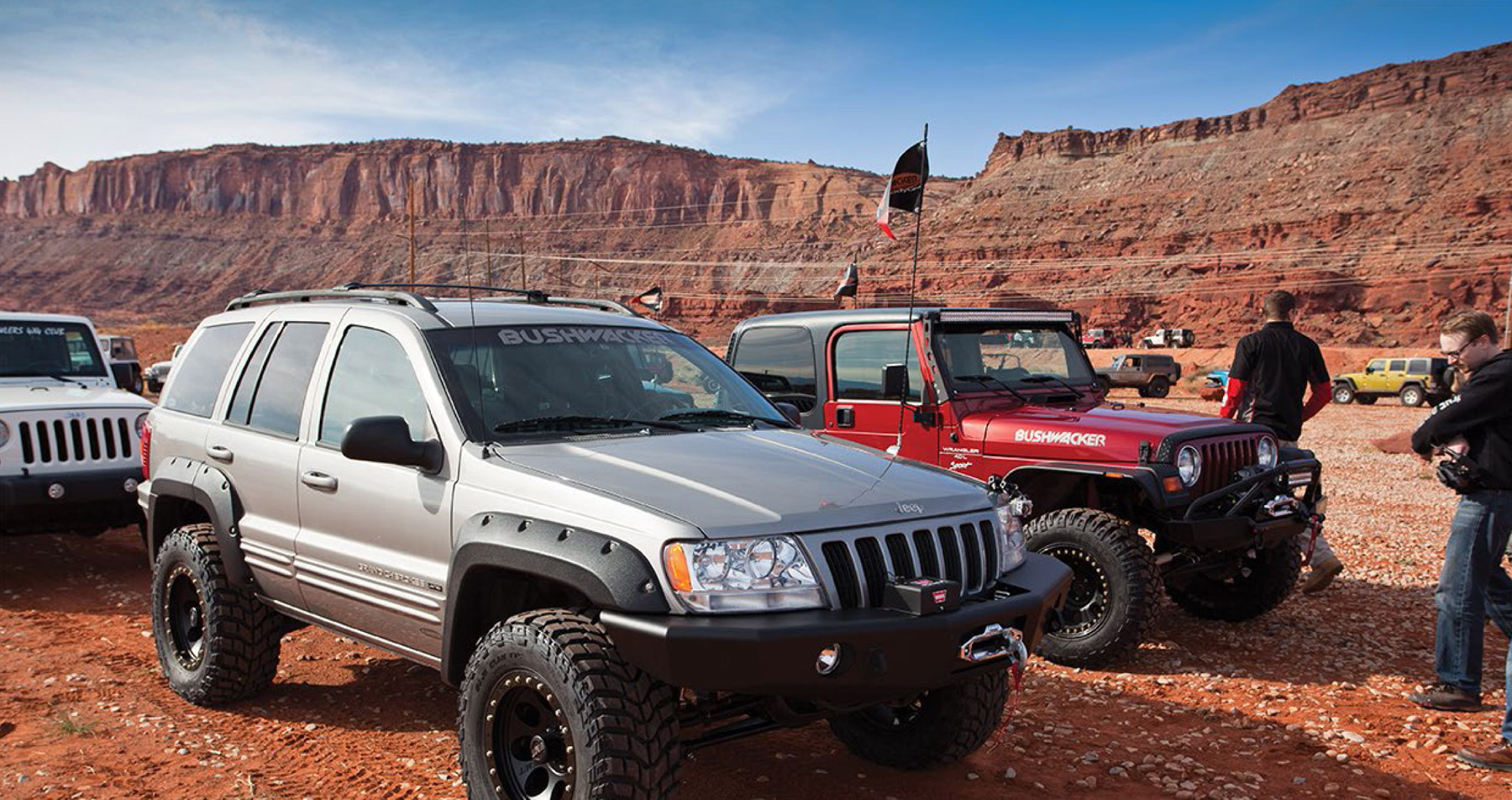 The Challenge
Bushwacker is committed to style, and innovation is a part of every product they make. They meticulously scrutinize every detail of each design, using the latest standards in design and manufacturing. For Bushwacker, quality can be summed up in three words: fit, finish, and style. However, "Quality is a moving target," Logan noted. OEMs continue to raise the bar for vehicle quality in terms of fit and finish, while the body style lines become increasingly sophisticated. And to stay in the game, Bushwacker's products must do the same.
Ensuring Quality to Stay in the Game
"Our customers expect that the accessories will blend with the vehicle's style lines. And with the high-quality surfaces that automobile manufacturers produce, the slightest gap or tiniest interference with the vehicle's style lines is immediately obvious. So we have to deliver a product with a perfect fit," said Logan. Crucial to reaching this goal is 3D scanning.
After experimenting with alternative solutions and scanning services, Bushwacker acquired a top-end scanning system that includes a seven-axis Romer Infinite 2.0 arm, a Perceptron ScanWorks V5 laser scanner and InnovMetric's PolyWorks® 3D metrology software. Knowing the precise digital data of a vehicle's surfaces allows Bushwacker to focus its talents on product designs with the confidence that they will fit perfectly. With 3D scanning, fit is taken out of the equation while simplifying the process and slashing man-hours.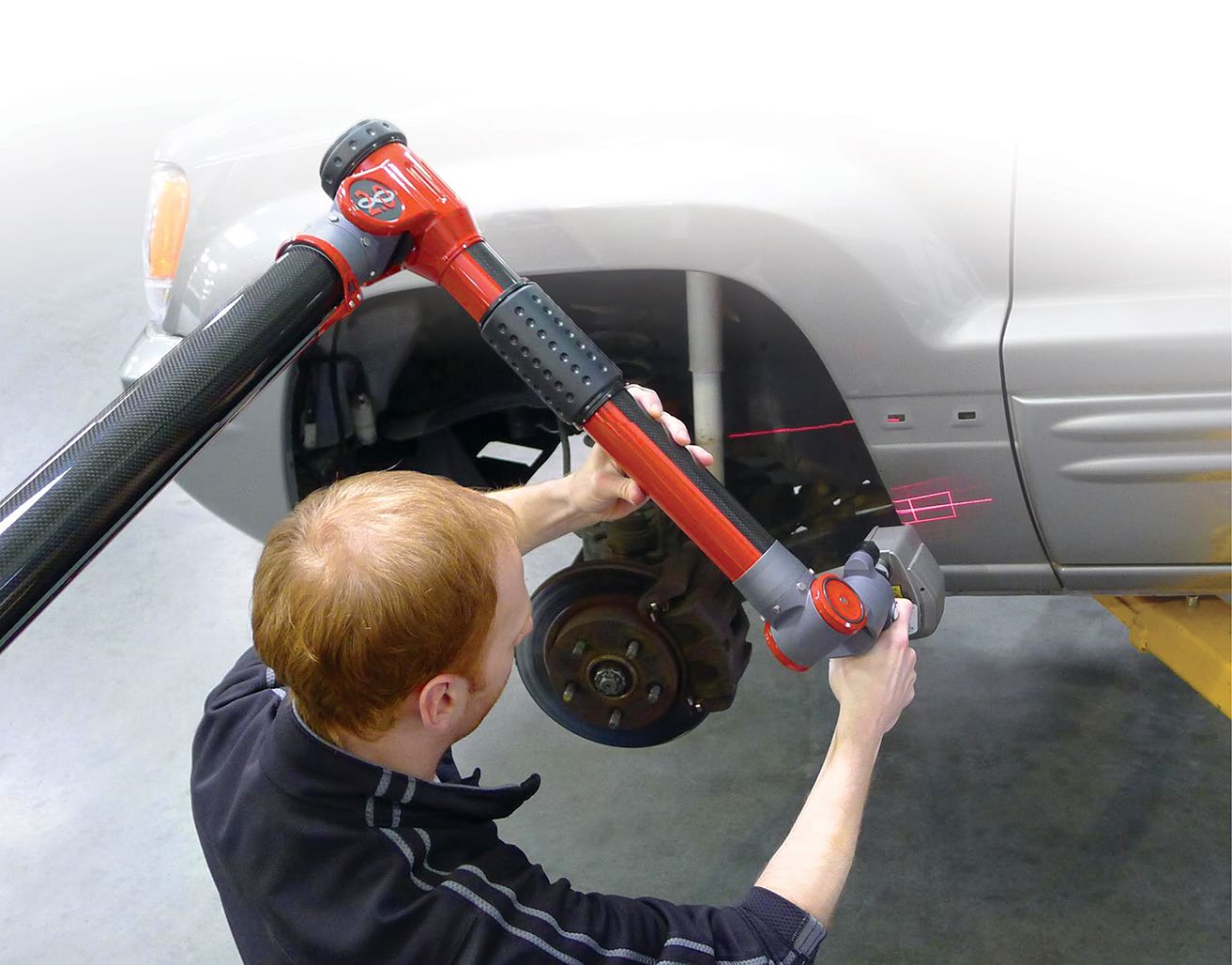 Laser scanning a Jeep Grand Cherokee to capture the front quarter panel with style lines and mounting locations.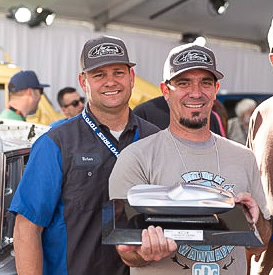 "With the scanner and PolyWorks software, we can move from concept to prototype in only a few days."
Sterling Logan Design Engineer, Bushwacker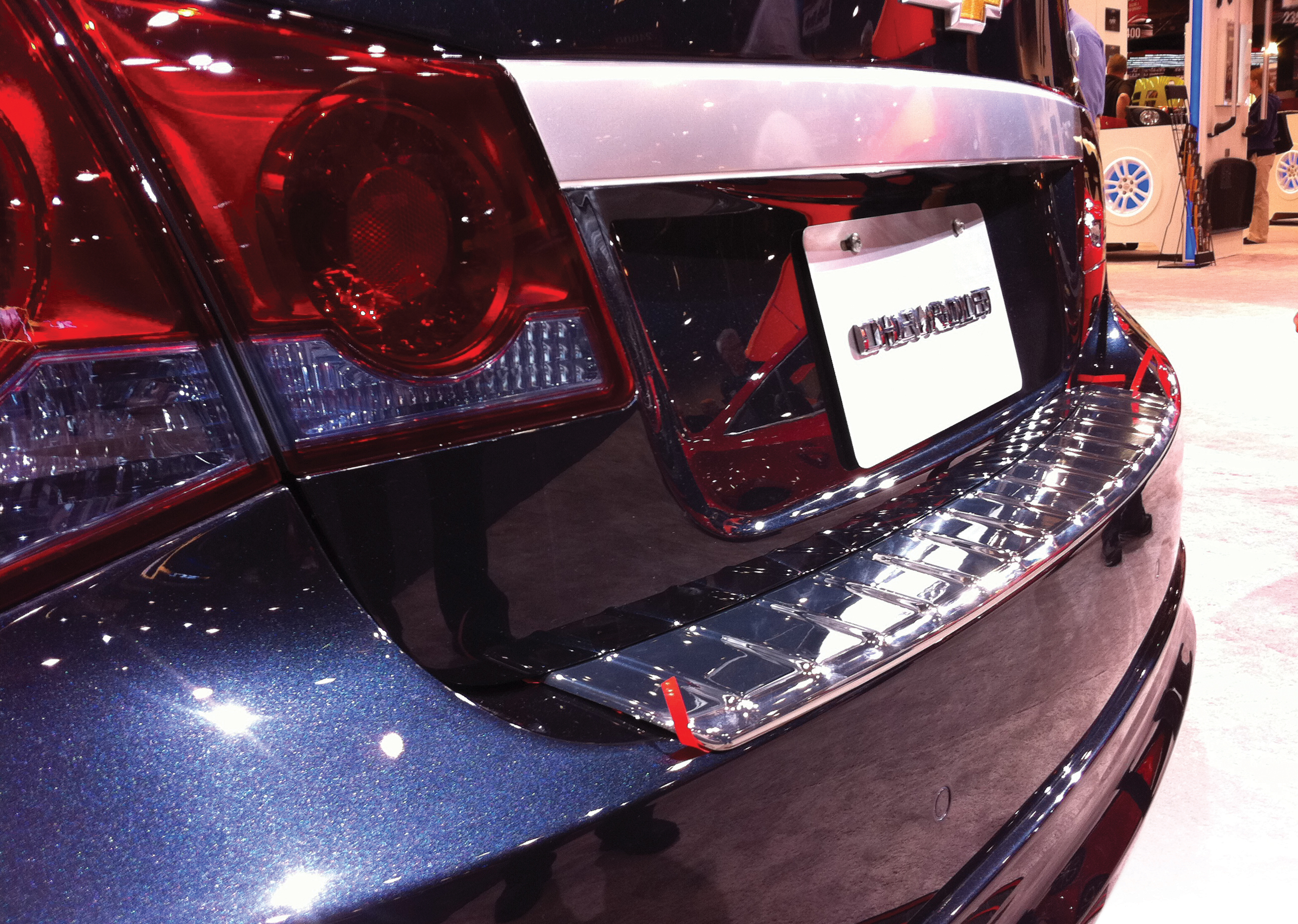 Bumper guard on the Chevrolet Cruze at SEMA, three days from concept to design.
To highlight the rapid response time thanks to 3D scanning, Logan cited the following example. "A customer contacted us a few days before the Specialty Equipment Market Association (SEMA) show with a custom request to design a bumper guard for the Chevrolet Cruze. In a mere three days, we had prototype bumper guards, and we opened the show with a brand-new product."
Logan illustrated how the product was completed in just three days. On day one, Bushwacker scanned the Chevrolet Cruze, processed the data using PolyWorks|Modeler™ and imported it into Siemens NX. On day two, they designed the bumper guard and machined a prototype mold. On day three, the parts were manufactured and flown to the SEMA show. 
In its earlier years, Bushwacker used the material of choice in OEM body-styling shops: clay. Designers applied clay to the vehicle and painstakingly sculpted it to the desired design. The resulting shape was then transferred to wood templates so the styling could be replicated in clay on the opposite side of the vehicle. Next, plaster molds were cast from the clay models, and these would be used to manufacture prototype thermoforming tools.
According to Logan, this process consisted of many hours of painstaking work. Yet even then, they would be months away from a production-ready mold. Logan said, "We'd get close but rarely perfect on the first attempt." Obsessed with the quality of its designs, Bushwacker tweaked the fit and design through four or five cycles of prototype molds, fit checking, visual evaluation, mold modification, and rechecking.
"But now with the reverse-engineering capabilities of laser scanning and PolyWorks software, we rarely have to make any changes to our molds or part designs. Changes we do make are dedicated to the subtle design queues that give our flares style—each designed for a specific look," said Logan.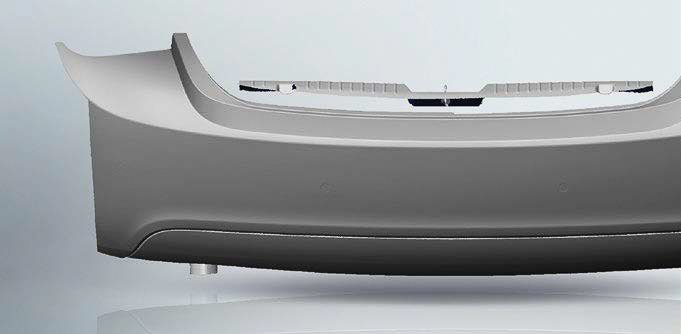 Scan data for the Chevrolet Cruze rear bumper and trunk latch ready for use in the design of a bumper rear guard.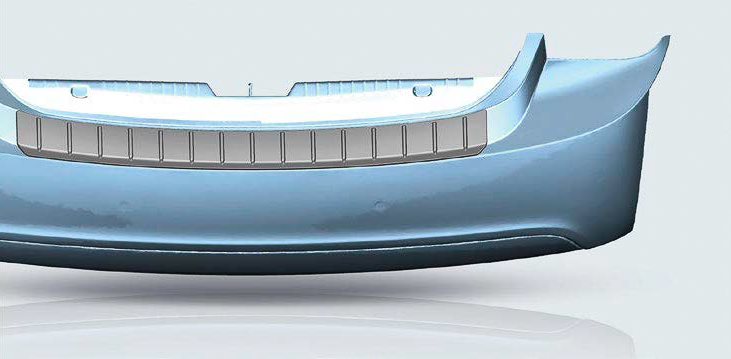 CAD image showing final bumper guard (gray) design and placement on the Chevrolet Cruze.
Jeep JK: Flare for Design
Logan reflected on the past and present, "Back when we started the business, our first flares were for the old Jeep CJ. The clay and plaster process worked fine then because the sheet metal for the fenders was flat. This is definitely not true for the body style of the new Jeep JK."
The Jeep JK was a challenge because of its body style lines and mounting configuration. Even with 3D scanning, Bushwacker spent six months developing its patented pocket-style flares, flat-style flares and Trail Armor. Logan noted that for all other projects, 3D scanning has, on average, slashed product launches to only one or two months after initial concepts.
The Jeep JK project also highlighted another advantage of 3D scanning: the acquisition of mounting locations. To facilitate installation, Bushwacker always attempts to use only factory mounting points for its accessories. For the pocket flare, this led to an innovative combination of inner and outer flares, and the scanned data provided the exact locations of the mounting points relative to the body panels.
"Without laser scanning,
it may not have been
possible for us to roll out
the Jeep JK accessories."
Sterling Logan, Design Engineer, Bushwacker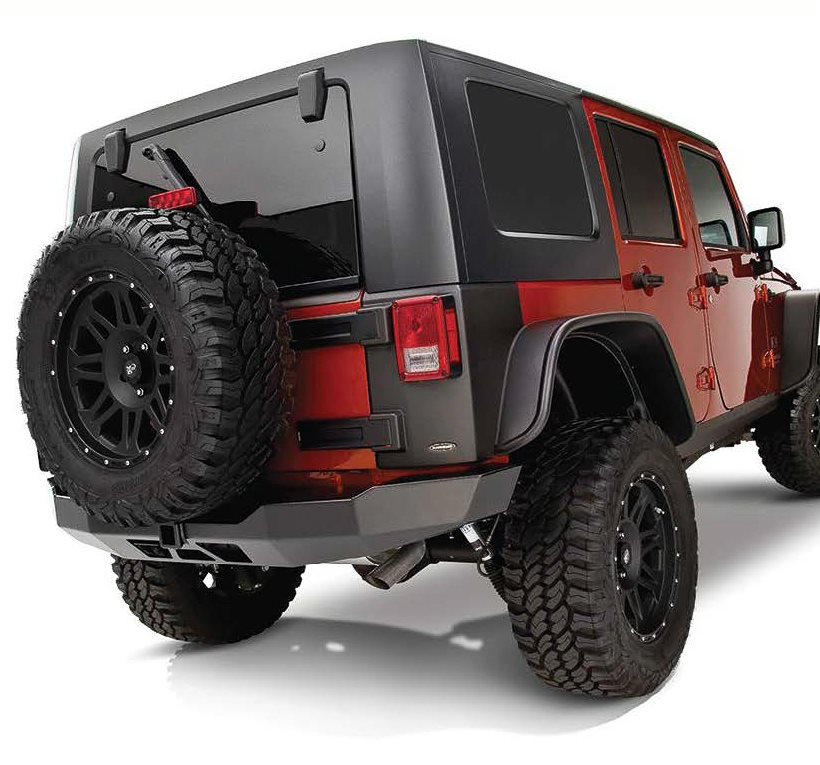 The innovative design and attention to detail paid off for the Jeep JK accessories. At SEMA, Bushwacker's flat flares took the runner-up award in the Best New Off-Road/Four-Wheel Drive Product category, while its Trail Armor nabbed first place for the Best New Exterior Accessory Product.
The Benefits
3D Scanning at Bushwacker
For all projects, Bushwacker combines its laser scan arm, PolyWorks and Siemens NX (formerly Unigraphics NX) in a three-step process: scan, prepare, and design.
In some instances, the 3D scanning system travels to the target vehicle, but in most instances, Bushwacker drives the vehicle into its facilities. For the first step of the process, Bushwacker uses PolyWorks|Modeler™ for laser scanner control and live data capture. "With PolyWorks, there isn't a grueling setup process to get everything communicating before we start scanning," and according to Logan, it only takes 10 to 15 minutes to set up and start scanning. He went on to add, "The interface is also intuitive and easy to use."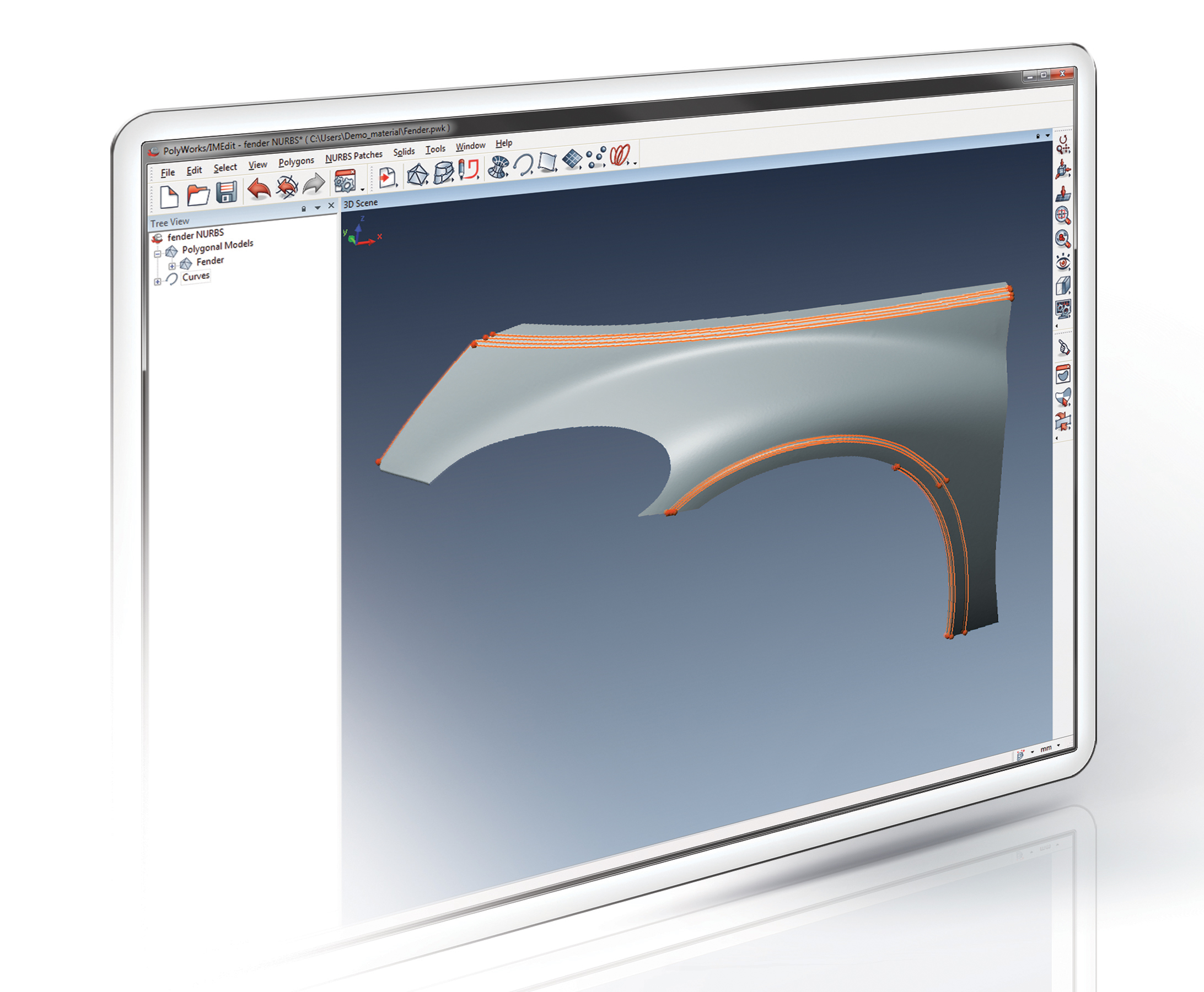 In PolyWorks|Modeler, the finest of features lines are easily extracted.
The digital model dynamically changes to follow the scan path; it gives great visual feedback to let the user know what still needs to be captured!
"I love the fact that as I scan, the digital model dynamically changes to follow my scan path. It gives me great visual feedback to let me know where I am and what I still need to capture," Logan stated. When he believes that the scan is complete, he then turns to the PolyWorks comparison tool, which shows scan-to-scan deviations. "This is my safety net for the occasional operator error, like a bumped scanner. I get immediate feedback on what I need to rescan," Logan said. "The result is clean, accurate data," he added.
As a Siemens NX user, Logan also finds that the PolyWorks|Modeler interface and tools are familiar and quite similar. He makes use of PolyWorks to prepare the files for import to Siemens NX, which he uses for data manipulation and design. "We need powerful modeling tools to create parts and designs that follow the subtle style lines of the vehicle. PolyWorks helps us capture the details, and that data is used in Siemens NX to design our parts. For us, it's a perfect blend," Logan stated.
To prepare the data for Siemens NX, he uses PolyWorks to filter out any noisy data, fill holes, and create splines and NURBS surfaces. "I select an area and let PolyWorks auto-create the splines; then I connect these and create NURBS," Logan said. "I find that it's very similar to the process for Siemens NX, so in fact, it's intuitive. As far as I know, nothing is better—nothing is easier than PolyWorks," Logan said.
In Siemens NX, the PolyWorks-generated NURBS become the baseline for accessory design. From the body panels and mounting points, Bushwacker's vision takes shape. Throughout the process, designers render the accessory and vehicle to visualize form and fit.
Each new part goes through a 'digital' design review before any prototype molds are designed and CNC machined. "The high quality surface data that PolyWorks provides allow us to scrutinize the part in CAD for fit and finish before we ever make a real part," Logan noted. Yet, they still rely on physical prototypes for final evaluation. Logan said, "Things jump out at you when you mount a flare onto the vehicle for the first time, things you can't or don't see on screen."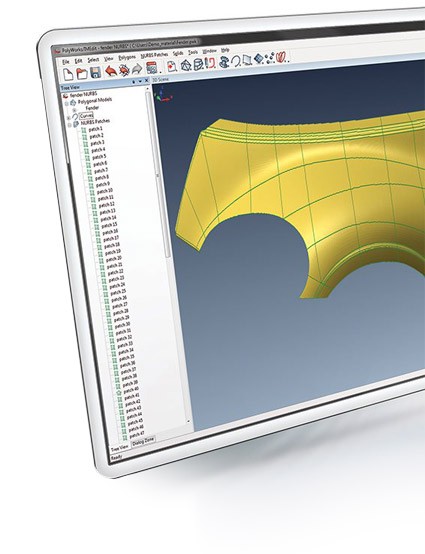 From digitized model to smooth NURBS surfaces in PolyWorks|Modeler.
The Next Step
Recently, Bushwacker extended its reliance on PolyWorks to inspection. PolyWorks|Inspector™ confirms the high quality—for which the company has become renowned—of its molds, prototypes, and first production samples. "PolyWorks|Inspector is extremely powerful. It allows us to bring inspection in-house, which lets us evaluate parts and molds quickly and whenever needed," Logan said. He concluded, "In the current economy, we have to stay on the cutting edge, and PolyWorks has helped us do that."
Featured Products
PolyWorks|Modeler™
The reverse-engineering solution that enables true interoperability between digitized polygonal models and your CAD/CAM applications