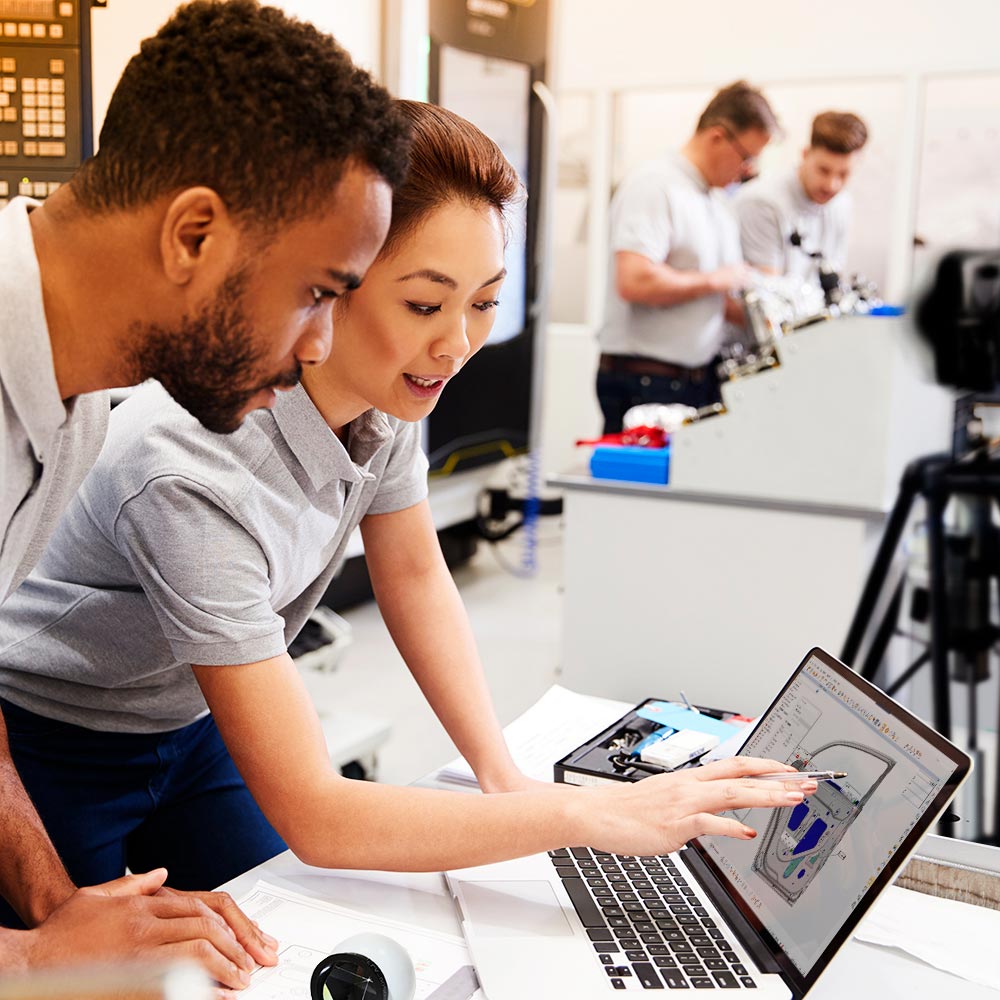 2 days
Classroom
or
Private
Objective
The objective of this two-day training is to enable metrology operators, technicians, and engineers, who have little or no knowledge of the PolyWorks Metrology Suite, to perform 3D inspections using tools found in PolyWorks|Inspector™. More specifically, it covers the key concepts of typical inspection workflows for laser trackers.
Prerequisites
Trainees must have basic knowledge of metrology and be able to read engineering drawings.
Trainees must have basic computer skills (Windows operating systems).
Outline:
Use different probing and compensation methods efficiently
Define a measurement plan
Measure surface deviations and control part dimensions by probing
Align the measured part to the CAD model
Inspect the part from multiple device positions
Perform live adjustments to parts and/or fixtures using the Build/Inspect tool
Review, report, and share inspection results
Inspect multiple pieces
Manage files and navigate through the PolyWorks® interface
Navigate through the PolyWorks Workspace manager interface
Create and save a workspace
Navigate through the PolyWorks|Inspector interface
Create and save a PolyWorks|Inspector project
Define a measurement plan
Define a measurement plan
Import a CAD model and use it as a Reference object
Create features, comparison points, and cross-sections
Set dimensional and GD&T controls and tolerances
Measure surface deviations and control part dimensions by probing
Configure a probing device
Select the reflector used for the measurement
Use the Single/Stationary, Continuous Distance and Continuous Time probing modes
Use different compensation methods
Review and adjust device-specific measurement parameters
Probe measurement objects
• Features, comparison points, and cross-sections
Measure objects by macro scripts
Align measured part to the CAD model
Align using Surface Points
Align using objects
• Perpendicular Planes
• Plane, Axis, Center Point
• Best-Fit Measurement Objects
Align using Datum Reference Frames
Create coordinate systems
Inspect part from multiple device positions
Align using device position targets
Verify measurement stability using drift checks
Scale and use bundling to manage changes in environmental parameters
Perform live adjustments to part using the Build/Inspect tool
Create Level Plane
Set compensation directions and tolerances
Perform adjustments with and without a CAD model
Review, report, and share inspection results
Review measurement results using the Control Reviewer
Structure measurement results using control views
Create formatted reports using snapshots and tables
Share and review inspection results using PolyWorks|Reviewer™
Inspect multiple pieces
Create a piece template for multipiece inspections
Repeat an inspection automatically
Review SPC results from multipiece inspections
2014 Cyrille-Duquet
Suite 310
Québec QC G1N 4N6
Canada
United States
PolyWorks USA Training Center - Novi
41700 Gardenbrook Road Suite 102
Novi, MI 48375
United States
United States
PolyWorks USA Training Center - Irving
1400, Corporate Drive Suite 170
Irving, TX 75038
United States
United States
PolyWorks USA Training Center - Everett
906 SE Everett Mall Way Suite 120
Everett, WA 98208
United States